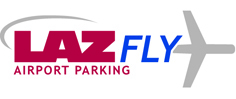 About LAZ Fly Airport Parking
Since June 2, 2010 LAZ Parking, the largest parking operator in Connecticut has seamlessly taken over the management operations of FastTrack's three Bradley Airport Locations. LAZ has stepped into all previous relationships with parkers, vendors and employees and will continue to meet the high standards set forth by the former operator, bringing a new focus, additional resources and national level of experience to the facilities.
At LAZ Fly we strive to provide our customers with the highest quality and satisfaction in Airport Parking. Whether it's our Valet Attendants assisting you with your luggage, our prefessional and Licensed Shuttle Drivers safely getting you to the airport or our Car Care Service Professionals cleaning your vechile, we always go above and beyond the service you purchased. Our LAZ Fly team wants make sure your arrival and departure from our lot is the easiest part of your travel.
We thank you for your continued support in allowing us the opportunity to assist you!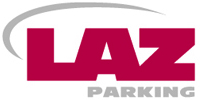 About LAZ Parking
Formed in 1981 as a valet parking company servicing restaurants in Hartford, Connecticut and Boston, Massachusetts, LAZ Parking has developed into one of the largest national parking companies in the United States. Alan Lazowski and Jeffrey Karp formed LAZ Parking, Ltd., predecessor to the current parent company, LAZ Karp Associates, Inc. beginning with a single valet location at a downtown Hartford location, Lazowski and Karp first established a parking organization and business concentrating on the provision of valet parking services. The company grew rapidly, and Lazowski and Karp expanded into other parking services. Over the past 35 years, LAZ has matured into a national parking organization. LAZ has its corporate headquarters in Hartford, CT, and it maintains regional offices in Atlanta, Boston, New York, Philadelphia, Baltimore, Washington DC, Dallas, Chicago and Florida and California.
LAZ Parking specializes in the management, leasing, ownership and development of parking facilities. We currently operate in twenty-one states: California, Connecticut, Florida, Georgia, Illinois, Indiana, Maryland, Massachusetts, Michigan, New Jersey, New Hampshire, New Mexico, New York, North Carolina, Pennsylvania, Rhode Island, Tennessee, Texas, Vermont, Virginia and Washington DC. LAZ's parking portfolio includes Class A office buildings, mixed use projects, hotels, hospitals and medical complexes, stand alone garages, surface lots, valet parking sites, concierge services, transportation intermodals, major entertainment/event parking, and university parking.
For more information please visit us at www.LAZParking.com