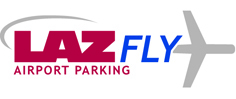 About LAZ Fly Airport Parking
Since June 2, 2010 LAZ Parking, the largest parking operator in Connecticut has seamlessly taken over the management operations of FastTrack's three Bradley Airport Locations. LAZ has stepped into all previous relationships with parkers, vendors and employees and will continue to meet the high standards set forth by the former operator, bringing a new focus, additional resources and national level of experience to the facilities.
At LAZ Fly we strive to provide our customers with the highest quality and satisfaction in Airport Parking. Whether it's our Valet Attendants assisting you with your luggage, our prefessional and Licensed Shuttle Drivers safely getting you to the airport or our Car Care Service Professionals cleaning your vechile, we always go above and beyond the service you purchased. Our LAZ Fly team wants make sure your arrival and departure from our lot is the easiest part of your travel.
We thank you for your continued support in allowing us the opportunity to assist you!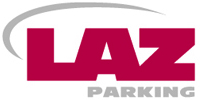 About LAZ Parking
The roots of LAZ Parking are founded on childhood friendships that were formed in the mid 1970s when Alan Lazowski, Jeff Karp and Michael Harth became best friends in a small town near Hartford, CT. Fast forward to 1981 in his senior year of college when Michael decided to start a valet parking business in San Diego, CA. He shared the idea with his two best friends who took hold of this opportunity and started their own valet businesses in Hartford and Boston, MA.
Michael began by serving three beach-side restaurants, Alan with a single location at a restaurant in downtown Hartford and Jeff with a nightclub and surface parking lot in downtown Boston.
Two years later, Jeff and Al merged their Hartford and Boston-based companies to form LAZ Parking. Meanwhile Michael continued to operate independently on the West Coast under the brand of Sunset Parking. Over the years, the three friends consulted with each other and shared their many experiences and philosophies, growing their companies side by side into leaders in their respective markets.
By 2006, LAZ Parking had become a significant regional player on the East Coast when they secured one of the largest parking contracts in the nation – the City of Chicago's Millennium Park Garages. This caught the eye of Indigo [formerly VINCI Park], one of the world's largest parking firms that wanted to invest in a U.S.-based parking company.
In 2007, Indigo [formerly VINCI Park] acquired a 50% interest in LAZ, which then formally acquired Sunset and the three friends merged their companies and cultures to form the LAZ Parking of today. The combination of lifelong friendship, a people-focused philosophy and the financial backing of Indigo [formerly VINCI Park], has been the fuel that has allowed the company to triple in size over just four years.
Through the combination of strategic acquisitions of Classified Parking, Apex Parking, Ultimate Parking, Interpark's operations in the Mid-Atlantic region, AlphaPark and VPS, LAZ has grown into one of the largest parking companies in America.
Today LAZ operates over a million parking spaces in thousands of locations across the country, including many of the original locations we started back in 1981.
Nearly four decades later, our founders and their original values continue to guide the LAZ Parking of today. With a laser-focused mission to "Create Opportunities for Our Employees and Value for Our Clients" we are passionately committed to living up to "The LAZ Way."
For more information please visit us at www.LAZParking.com